Journal Entry:
Sat Oct 22, 2011, 3:24 PM
~ CUTIE FACE ICONS ~
Your own cute little character comes to life with big shiny, blinking eyes!

£6 GBP - Paypal only

Five new slots open!
~~~~~~~~~~~~~~~~~~~~~~~~~~~~~~~~~~~~

- SLOTS -


1.
Mirz123

2.
--cancelled--

3.

4.

5.

6.

7.

8.

9.

10.

11.

12.
Mirz123
- More slots will open after mid January! -
~~~~~~~~~~~~~~~~~~~~~~~~~~~~~~~~~~~~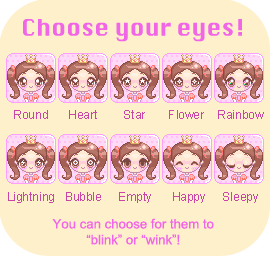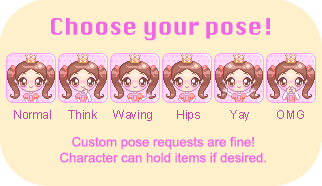 HOW DO I ORDER A COMMISSION?

Simply send me a Note with the details needed above!
Once I've been paid, icons are made in order of who commissioned me first to last.
Please be patient, these things take time!
You must give credit to me for the icon in your signature.
(Go to Settings and type in "Icon made by :devPrincess-Peachie: " - remove the @ )


IMPORTANT STUFF:



I only accept PayPal as payment. No points.

Please do not ask for an Art Trade. I only do these with people special to me!

No, you can
NOT
trace these icons to make your own!

You must be a member of DeviantArt for over 2 months to order.

If I have already started your order, I cannot refund you.

I cannot lower the price. I am already working overtime for the price of these.
(In comparison,
firstfear
's Squish avatars were the same price!)
Can't afford a commission? There is still a chance for you to
win
one!

Every so often I will hold a Lucky Draw which you can enter! Goodie!

See all Cutie Face Icons: princess-peachie.deviantart.co…

Thank you for looking!!

Lots of love,
Peachie

xoxoxoxox
.